We want to help you find your perfect space for your next business or social event!
Call us at 479-239-0029 or drop by the Center, we will be happy to answer your rental questions or to give you a tour of our facility.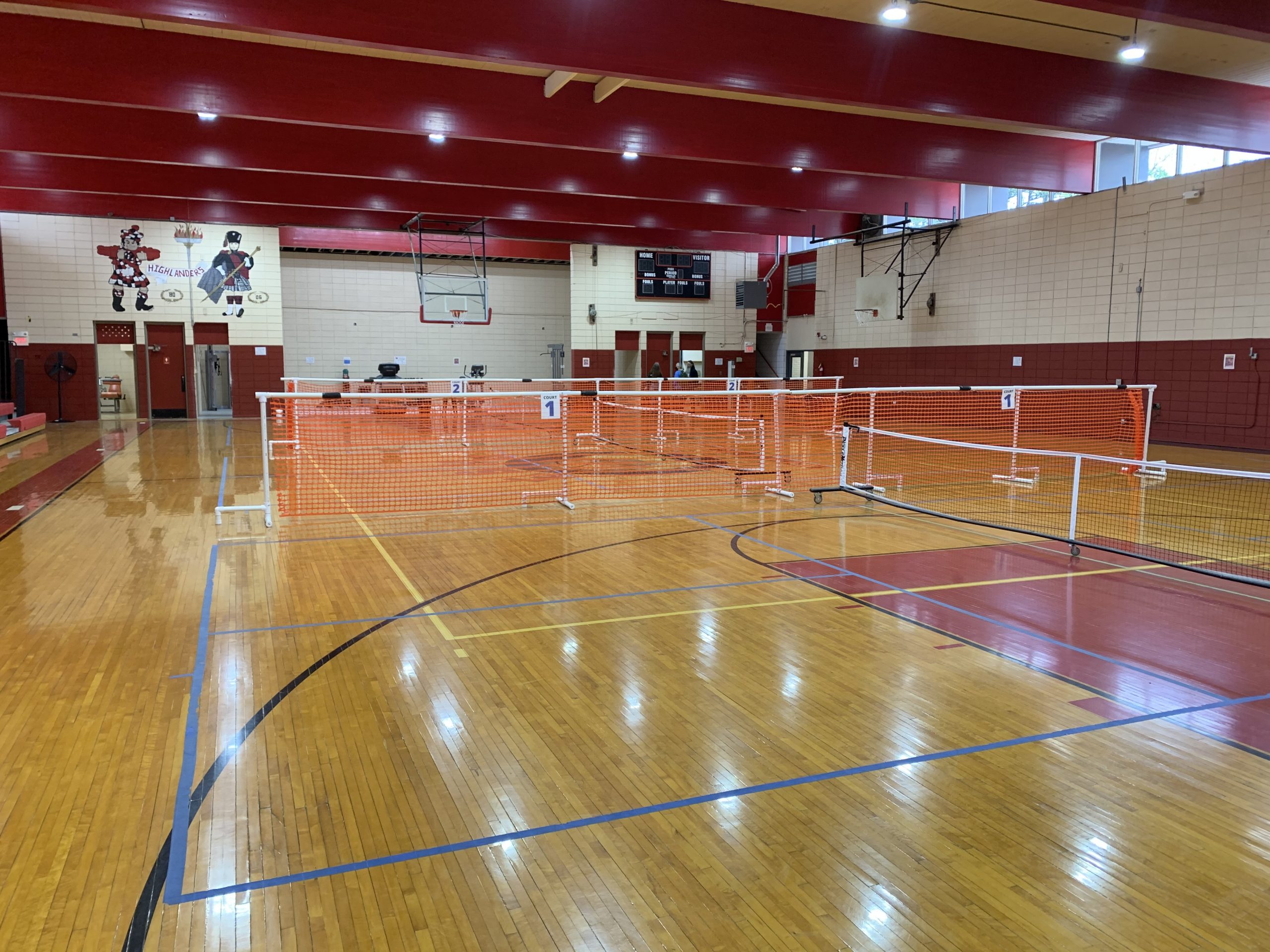 At 5,200 sq ft, the Community Center Gymnasium is the ideal venue for your largest events and most ambitious projects. Think festivals, conventions, and sporting tournaments. Folding tables, chairs, and audio systems are all available to make your event a success. The gym opens to the main lobby and two large restrooms. With original wooden floors, retractable stadium seating, and new LED lighting, the gym is ready for you to scale new heights.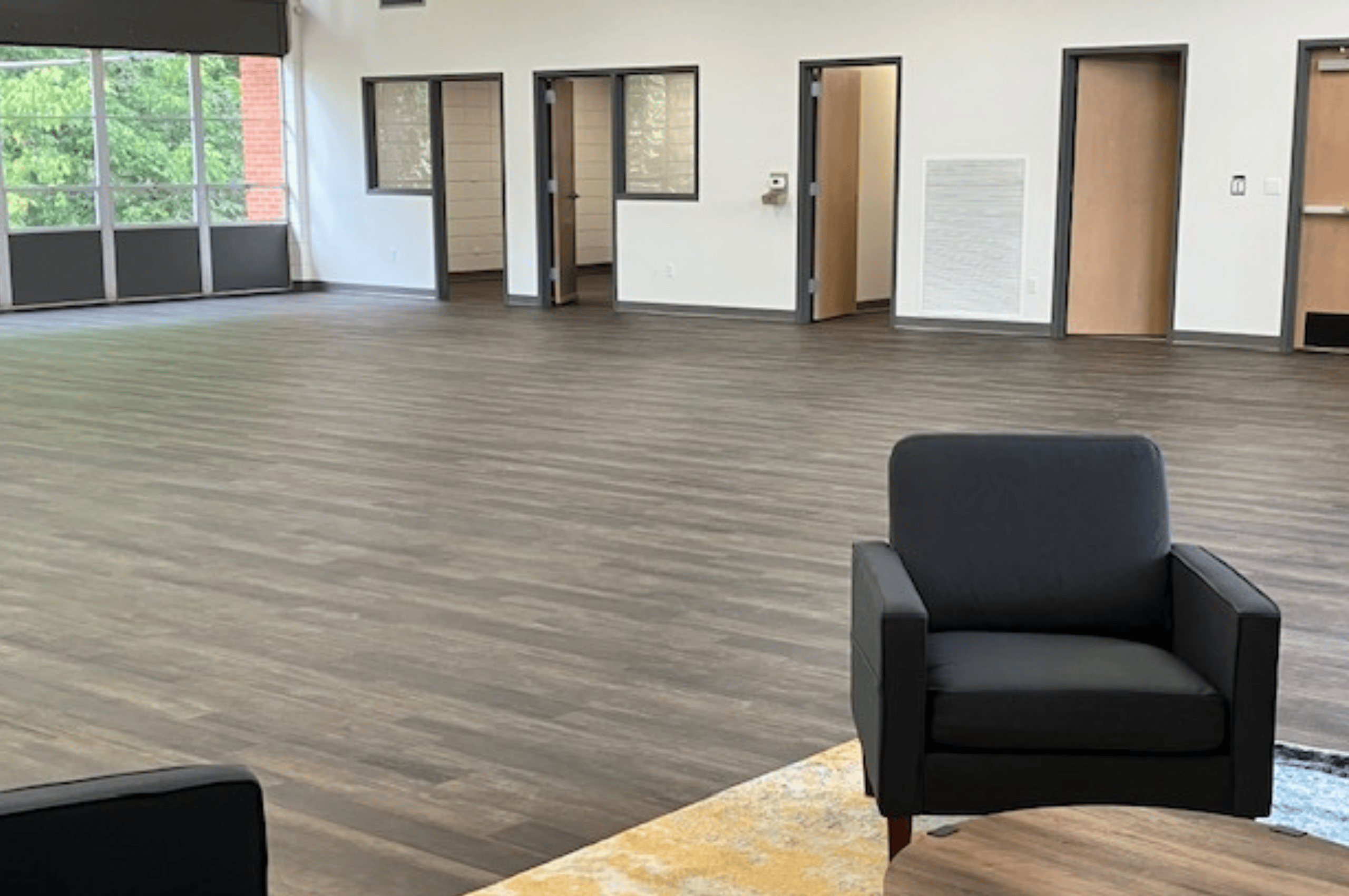 The new Highlander Room is a bright, 3,200 sq ft room ready to accommodate your classes, large training sessions, board meetings, and fun social events. This multipurpose space can host weekend-long festivals and city-wide public meetings. It can be the headquarters for sporting events and large vendor gatherings. Go through the French doors to a new patio which leads to the sidewalk. The large space lends itself to a variety of table and chair configurations to suit your needs. The casual seating areas add a level of comfort to any activity. WiFi and the adjacent kitchenette and restroom make the Highlander Room perfect for your next event.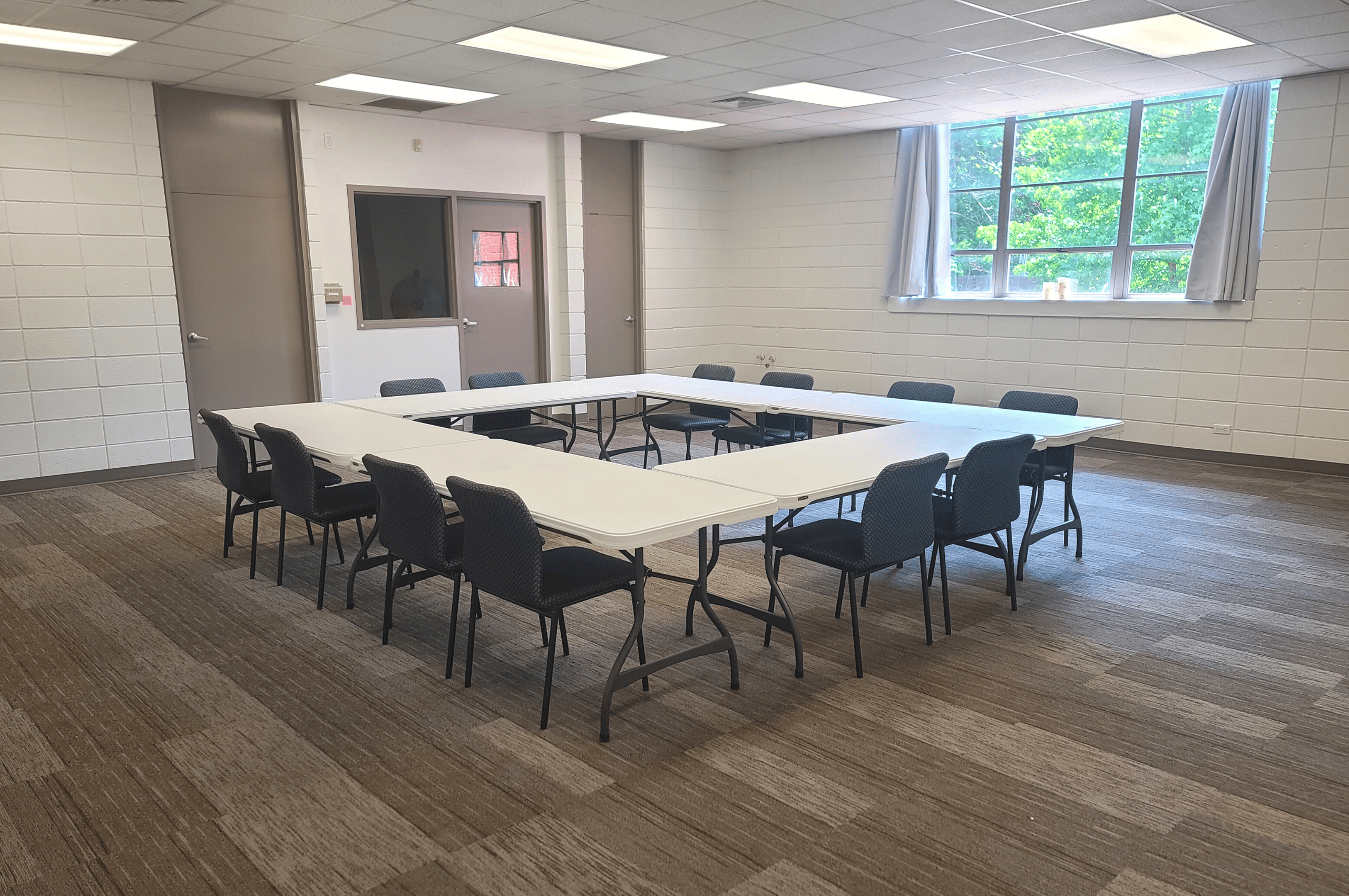 The Community Room is fully outfitted with meeting tables and chairs, large white boards, and WiFi. This 840 sq ft carpeted space comfortably accommodates your meetings, work sessions, classes and discussions. It opens into a roomy lobby with an adjacent restroom. Envisioning a team building or staff learning session? Remember the Community Room. A baby shower or small family celebration? Remember the Community Room. It is a great space for so many reasons.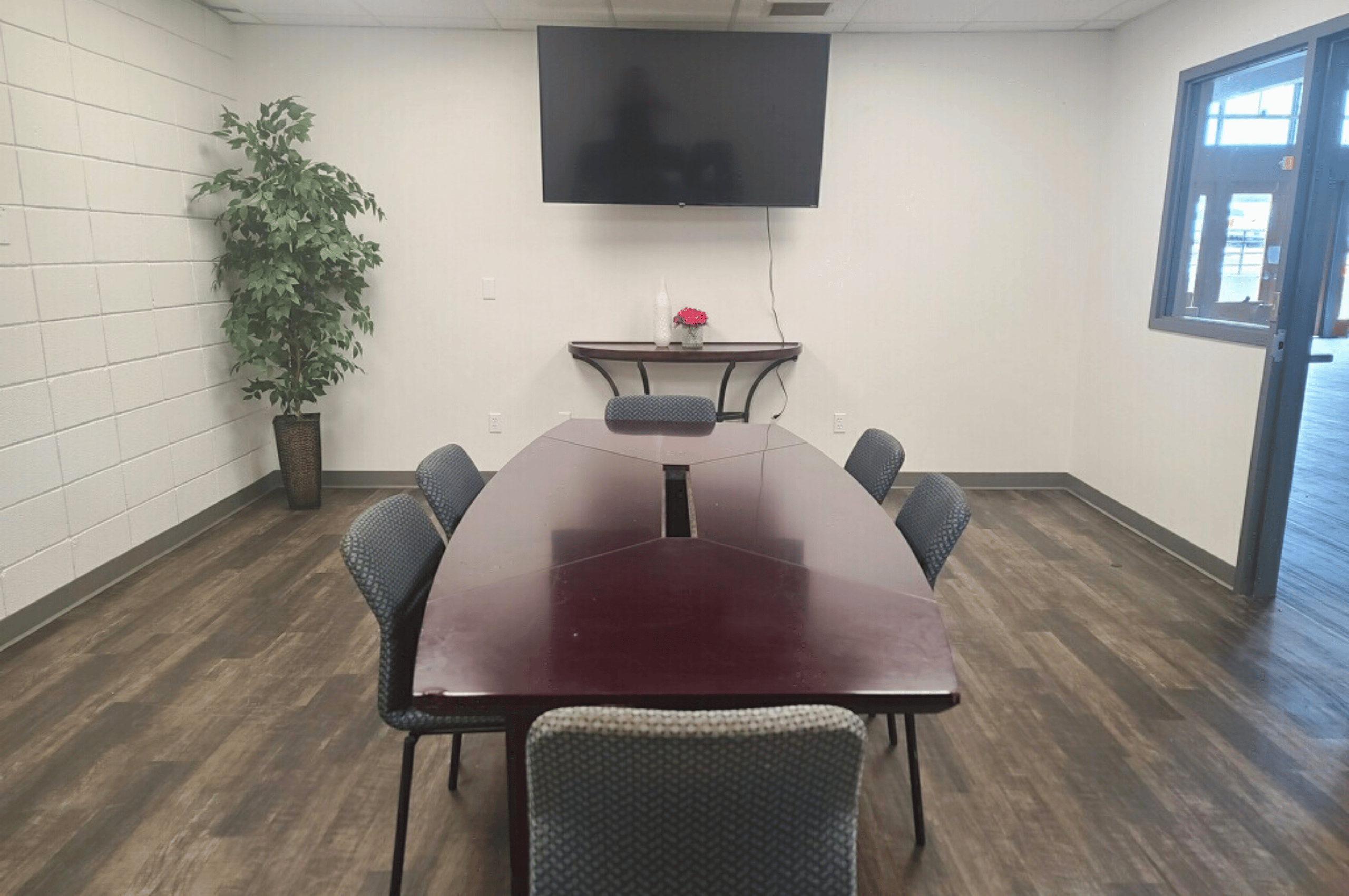 The Community Center Conference Room is ready for your board meeting or your strategic planning session. It's outfitted with meeting tables and chairs, a Smart TV and WiFi. Looking for a comfortable, quiet space for tutoring or training? Consider our Conference Room.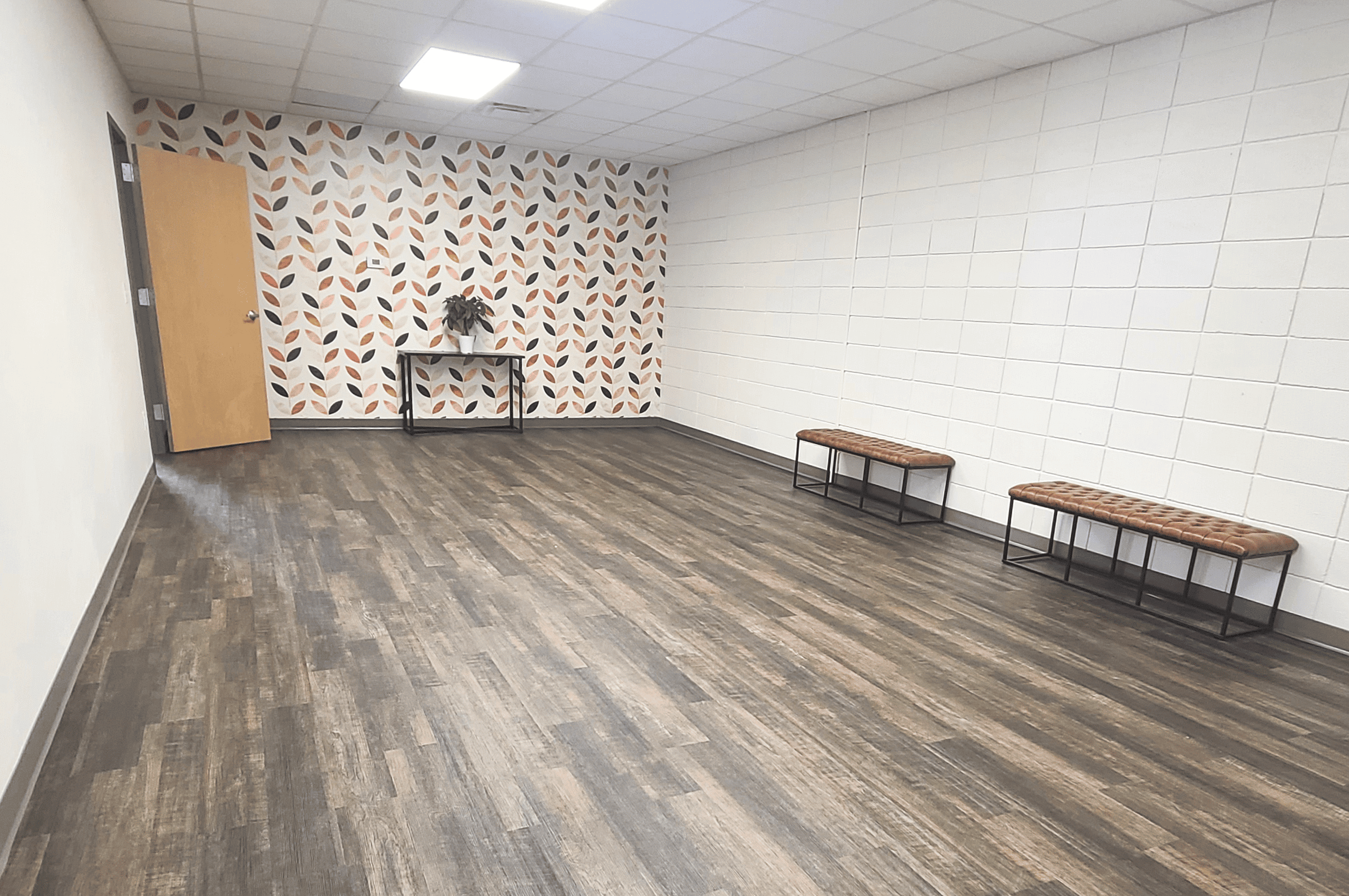 This bright cherry room is available for any type of exercise and movement classes. Room can accommodate several tables and chairs for an informal gathering. With its own thermostat, you can be set at the ideal temperature for whatever the activity.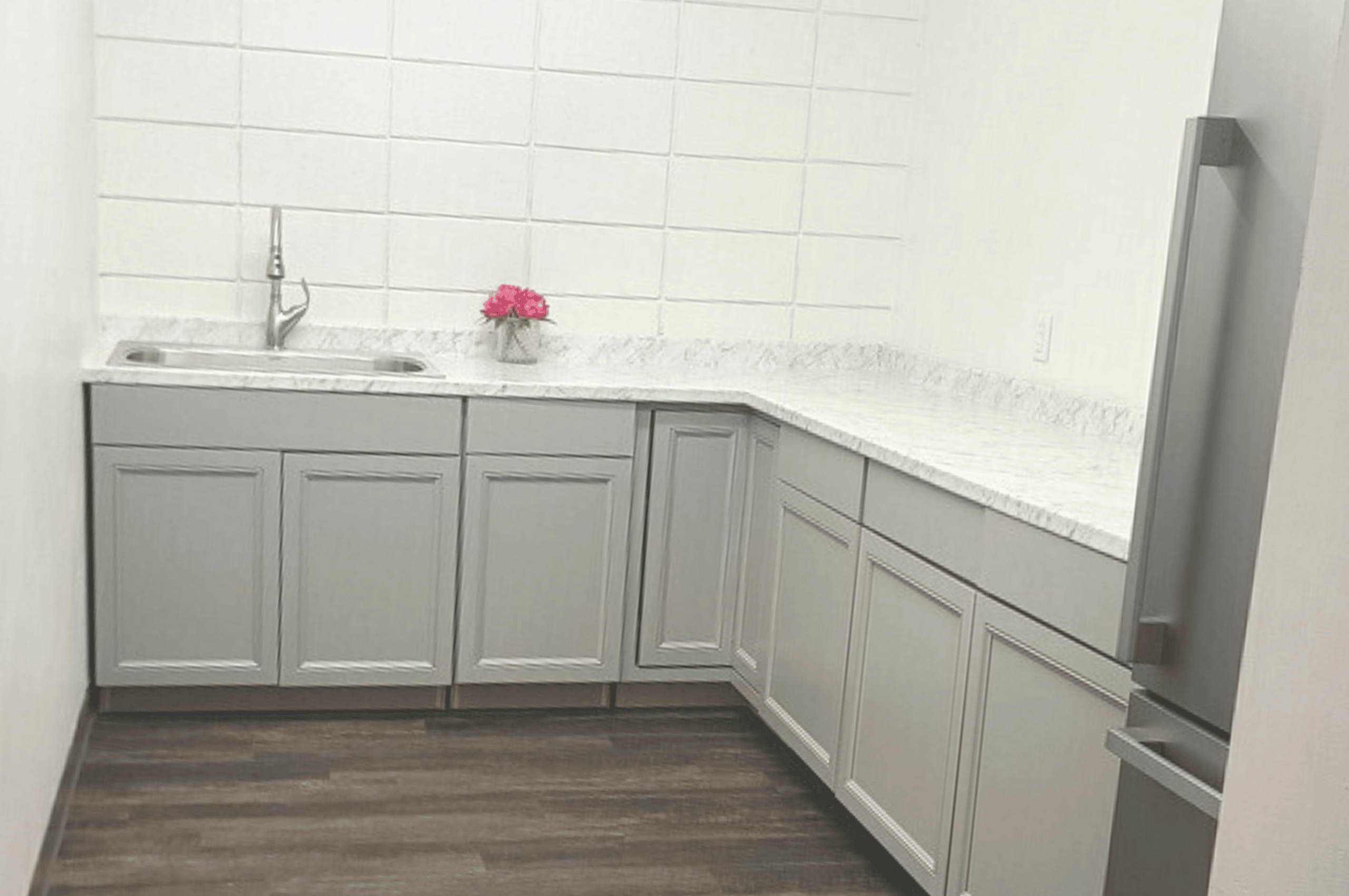 This brand-new serving kitchen, with its full-sized refrigerator, is adjacent to the Highlander Room and the Conference Room. With easy access also to the Community Room and Movement Room, it will be a snap to serve refreshments for your event from here.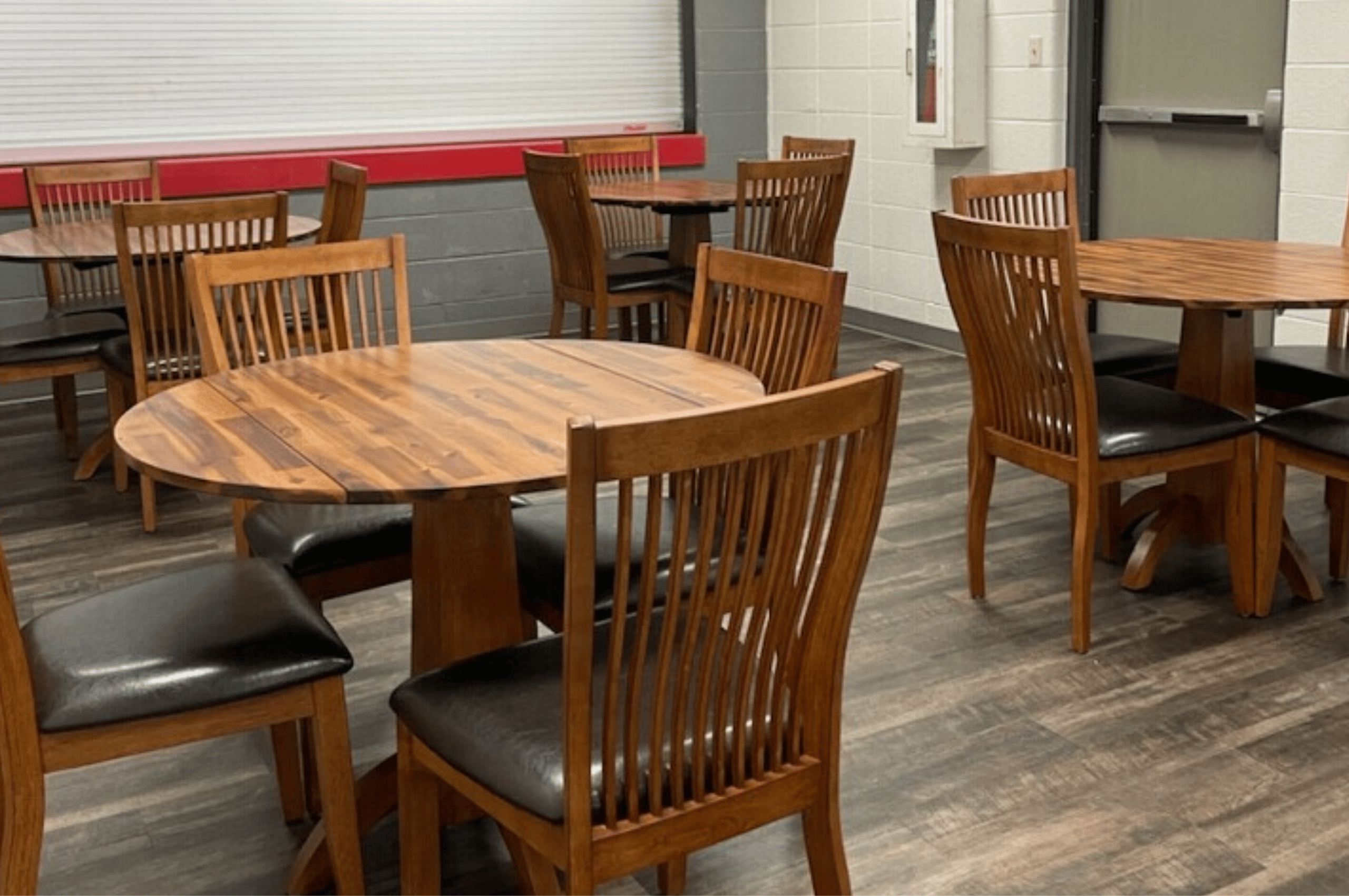 Do you have a gathering in mind and you want to be in heart of the Community Center at the same time? Our Main Lobby is for you. We have social groups meet here on a regular basis, enjoying quiet conversations while being part of the larger Community Center community. Or maybe you want the entire lobby for an event. We can do that too! Just be in touch!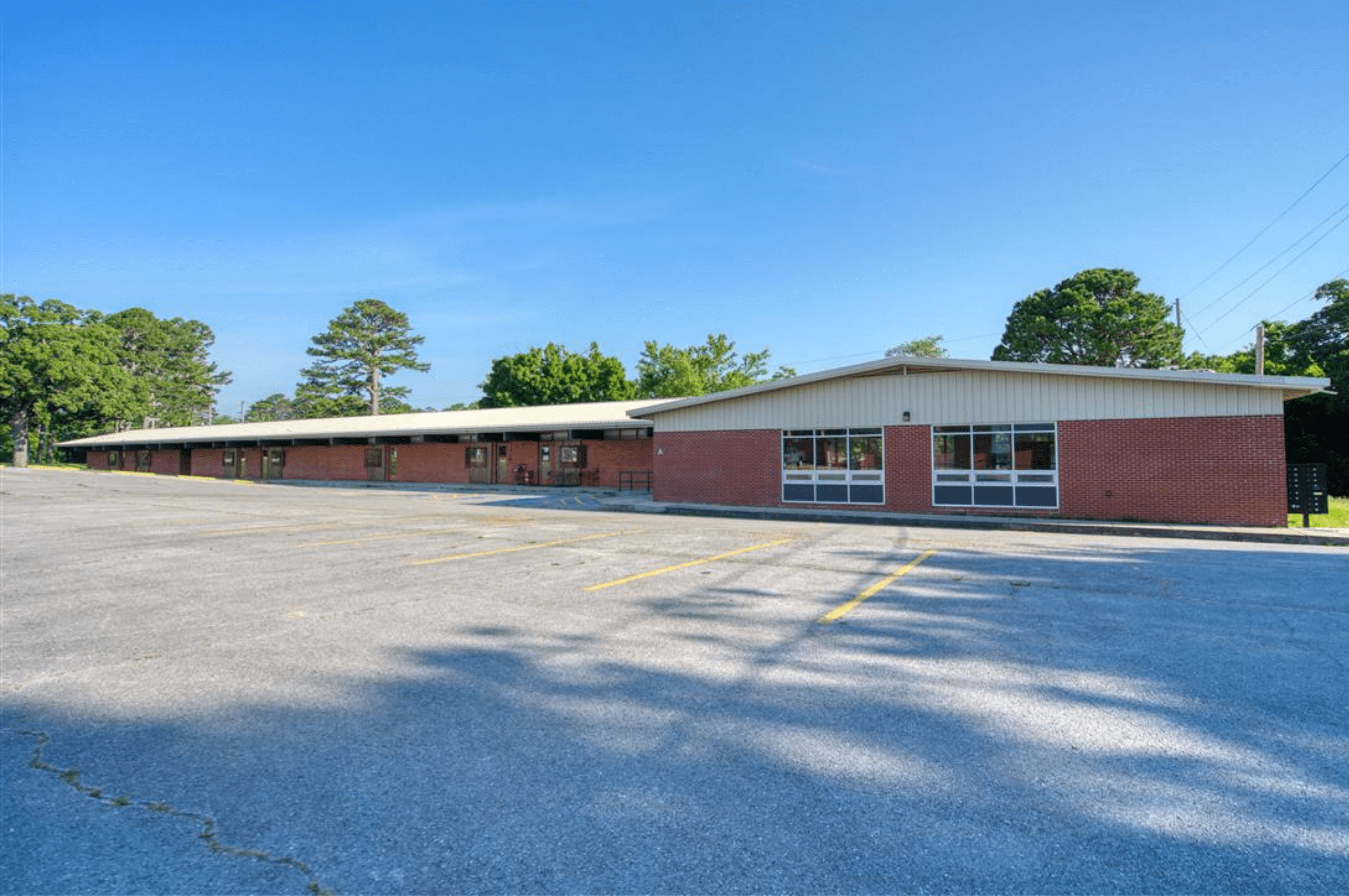 The Community Center Parking Lot is available for special outdoor events like car shows or meet-ups.  The lot can park up to 83 cars,  is close to downtown, accessible to the trolley system, and is a paved, flat surface.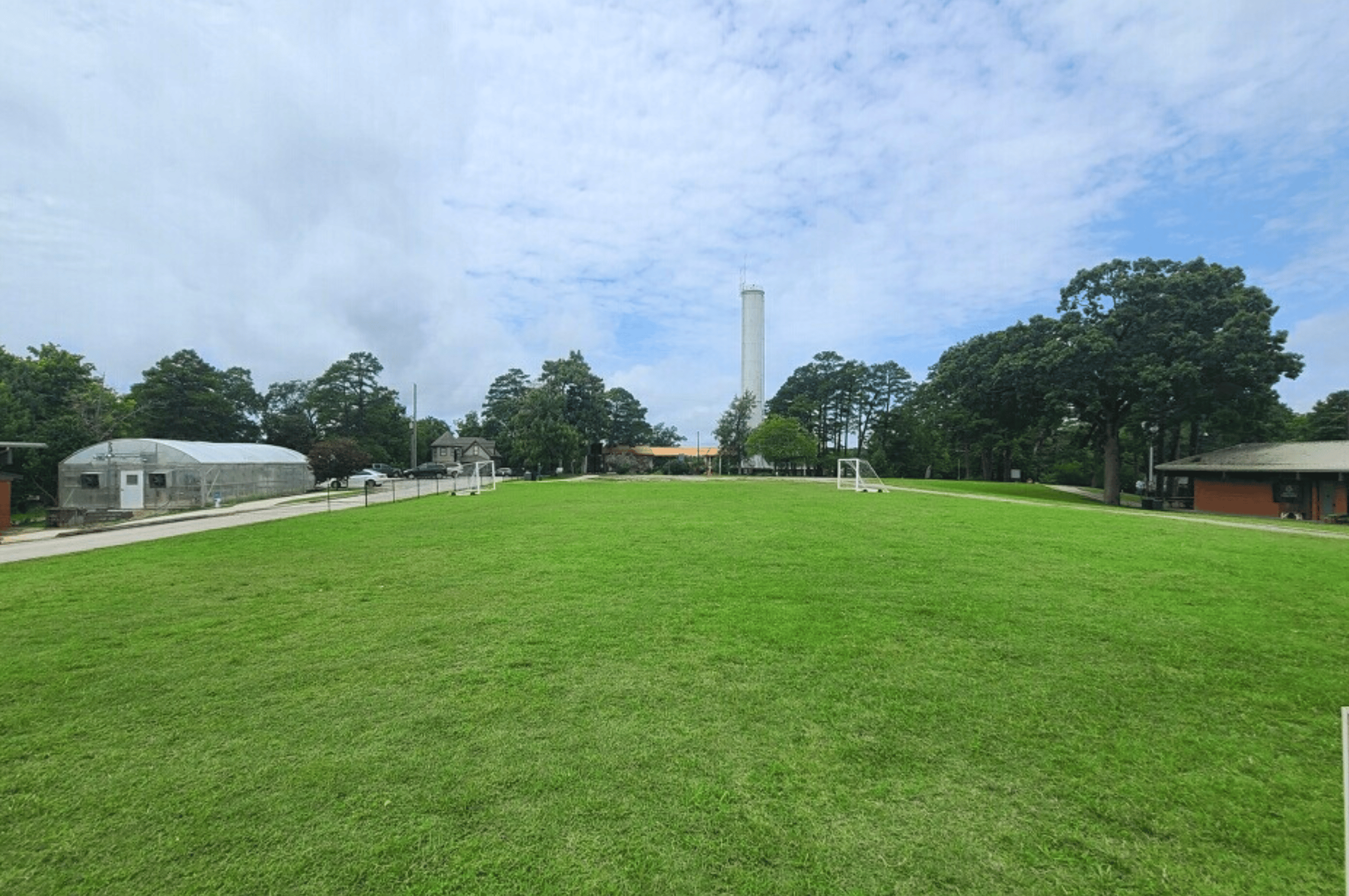 Whatever outdoor activity you have mind, we have the space! Recently a church set up a tent with 200 chairs for their large gathering. Company picnic? Yes! Volleyball tournament? Absolutely! Portable water slide and other water features for children? We have seen that happen! We invite you to walk the campus and get a feel for this large and flat space located in the heart of Eureka Springs.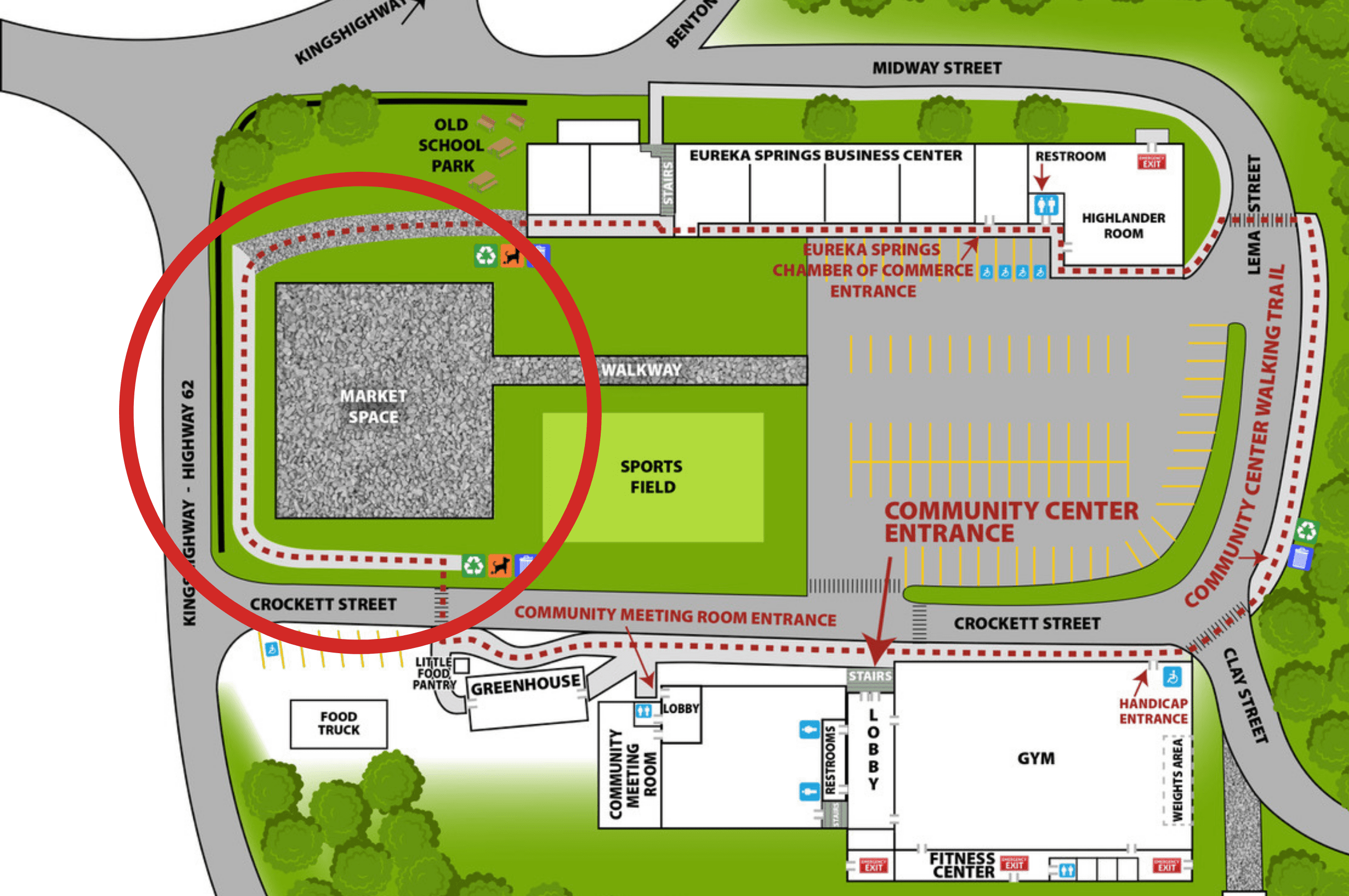 Home to the Eureka Springs Farmers' Market, this 98' x 110' crushed limestone pad is available for your swap meets, flea markets, family gatherings, company picnics, and more.