Get fit, stay healthy, and have fun in our Fitness Center.
Our Cardio equipment includes ellipticals, stair climber, treadmills, spin bike, Concept 2 rowing, and Schwinn recumbents. We feature a full spectrum of Promaxima weight machines, Hoist mulit-station towers, and free weight for a comprehensive strength circuit.
Equipment Available:
(1) Smith Machine
(1) Promaxima P-142 Weight Assisted Chinning
(1) Promaxima P-5300 Seated Leg Curl
(1) Promaxima P-3200 Seated Tricep Press Down
(1) Promaxima P-107 Lat Pull With Low Row and Seated Cable Row
(1) Inflight Fitness Multi Ab/Back Press
(1) Keys Dumbbell Set - 3 lbs. to 50 lbs.
(2) Nautilus Adjustable Benches
(1) Hoist HD-1900 Dual Pulley System
(1) Hoist H-4400 4 Stack Multi-Gym
(4) Life Fitness 95T Treadmill
(2) Life Fitness Ellipticals
(1) StairMaster Freeclimber 4400CL
(2) Schwinn Recumbent Bikes
(1) Life Fitness Spin Group Exercise Bike
(1) Concept 2 Model E Rower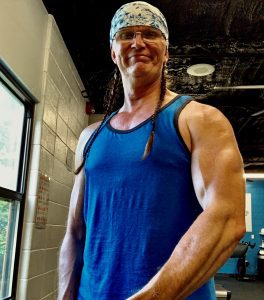 Are you interested in getting a personal trainer? Check in with John Two-Hawks who is an AFPA Certified Personal Trainer specializing in resistance training. Working with the Community Center, he meets his clients in the Fitness Center.  The Front Desk at the Center has all the information you need.
John's unique method utilizes a creative blend of bodybuilding and strength training approaches to achieve overall body strength and muscle definition aesthetics. Read more about John at his personal training site, www.liftingforhealing.com