Full Moon Sound Bath and Healing Meditation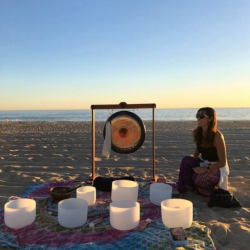 This class will start with gentle movement to awaken the energy meridians, followed by a journal exercise and meditation. Students will then submerge on a deep sound bath and healing experience with Tibetan bowls, planetarium gong, tuning forks and reiki . Crystals, essential oils, sage, and oracle cards as props will be used for this experience. Ages 12 and older are welcomed.
Instructor: Maria Moore
Purchase workshop in-person at the Center or purchase the workshop online.