SIPtember – It's a Jimmy Buffett Luau!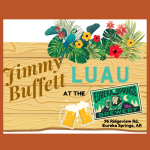 Follow the Tiki torches to the Eureka Brewery for a night of fun, hey, it's will be like you're on vacay in Cabo because it's a Jimmy Buffett Luau! We are bringing Summer right to Autumn's doorstep. A great laid-back evening and a beachy tribute to our musical icon, Jimmy Buffett.
It's our 4th SIPtember Fundraiser Party for the Eureka Springs Community Center and held at the Eureka Springs Brewery.
Enjoy an Evening outdoors with great locally made Beer, Cider and Wine. And non-alcoholic beverages too. Delicious Hors d'oeuvres, Incredible Silent and Live Auction, Music, and last, but not least, the Three Star-Studded Teams competing for all kinds of FUN.  A great spectator event.
TICKETS
Purchase at the Door on the night of the event or online!
Adults                          $25
Teens  12 – 21             $10
Children under 12   Free!
EVENT SCHEDULE
4PM Doors Open – Ticket includes beer/cider/wine tasting plus delicious Hors d'oeuvres.
4PM to 7PM – Silent Auction – many GREAT items and services!
5:15PM – Audience Contests
7PM – Live Auction
5PM to 6:45PM – Team Competition
These hand selected teams will be competing in tropical-themed events. Show your team support with a $5-$20+ donation in the name of your favorite team. Watch three teams – the HULAgans, the COCONuts, and the Margarita Villains – compete for bragging rights all evening long. Bonus: YOU may be chosen to join one of the teams that evening!
New this year: Be ready to win big by participating in these audience contests: Costume Contest (get your color on!); Limbo (will you be the one to reach a new low?); Hula Hoop Contest (will you be named the Big Hula?).
LIVE AUCTION ITEMS
1. Standup paddle board – NRS STAR Phase Inflatable SUP Board 10.6″
2. Flight and Picnic to Richland Creek to view the Fall Color – Flight for two to Richland Creek, near the Buffalo River, where the couple will enjoy a picnic lunch provided by Mud Street.
3. Outdoor Swimming Pool – 10′ x 20′ – WOW!
You deserve to relax Jimmy Buffett style. See you at the Eureka Springs Brewery for a great laid-back time.
ESCC Foundation is a 501c3 organization. The Center was built and is funded by You! We receive no tax revenue or any other governmental support. Rain or Shine, a Great Evening Outdoors benefiting the Eureka Springs Community Center!
EVENT SPONSOR
Thank you Bare & Swett for being the proud sponsor of this year's SIPtember fundraising event.