Benefits of Resistance Training – An Introduction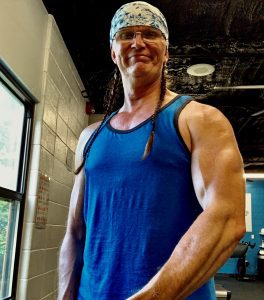 John Two-Hawks, AFPA CPT, invites you this 50-minute class that will offer participants insight into the incredible health and wellness benefits of resistance training. Free of charge!
John will share interesting anecdotal stories and proven scientific facts that will demonstrate why building strong muscles equates to a longer, happier life.
Participants will also learn some basic concepts in body movement, exercise terminology and muscle function. There will be an informative Q&A near the end of the class. Session is open to members and Non-members 16 years and older.
John asks that all interested register for this free session IN ADVANCE either in person at the Welcome Desk at the Center or by phoning the Center at 1-479-239-0029 or online here. There is a 20-person limit for this session so please don't hesitate to reserve your spot now.
As well as being a Grammy and Emmy nominated recording artist, John Two-Hawks is an AFPA Certified Personal Trainer with 30+ years of experience, and the owner of 'Lifting for Healing', a personal training and coaching business focused on helping people realize their dreams for a life of wellness, strength and vitality.