Blood Drive in Honor of Elliott Zerr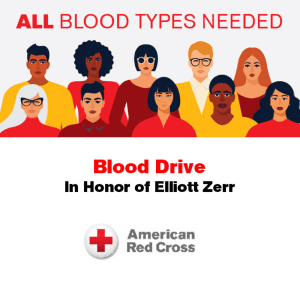 It is great to sponsor this Blood Drive, organized by Kate Zerr, conducted by the American Red Cross. Sign up to donate blood to honor of her son's second birthday; little Elliott received many transfusions throughout his first year on this Earth. Donating on this day will be a sincere way for our community to recognize the importance of maintaining a blood bank for others who may need, as Elliott did, this life-saving treatment.
Maximize your blood donation. If you are an eligible Type O, B, or A donor, consider making a Power Red donation. Red blood cells are the most commonly transfused blood component.
Warm hearts, warm thoughts. Give blood in February and receive a $10 gift card from Amazon by email and be automatically entered into a drawing to win a trip for two to Clearwater Beach, Florida.
Please sign up using this link. Signing up in advance helps to make sure people don't have to wait in line too long to donate but also to make sure that they send enough staff for the day.